Caribbean Draw Poker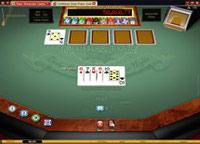 If you fancy a change from the current free roll slot tournaments and
Triple Gold slot tournament
entries that you surely must be trying for, why not look at the brand new
Caribbean Draw Poker game
from Microgaming that has recently been released. This is the latest in the trilogy of Caribbean games from Microgaming and includes a progressive jackpot together with an exciting game of 5 card draw Poker.
Two Games in One with Caribbean Draw Poker
Caribbean Draw Poker is in fact two games in one. In the first game you place bets on the outcome of your hand against that of the dealers which in the case of the online game is of course the casino. The second part of the game or second side bet if you want is a bonus bet which can bring you the progressive jackpot which accumulates depending on the final outcome of your Poker hand. One of the important things to remember when playing Caribbean Draw Poker is that it is a progressive game and you cannot play this as a practice or for fun therefore it is important to familiarize yourself with the game and its rules before you take the plunge and start betting. Coin bets range in value and you can choose from 1 to 200 chips to place when playing Caribbean Draw Poker making it a game for every level of player with every budget.
The First Ante Bet
The game commences with an initial bet by the player, this is known as the Ante bet. The player is then dealt five cards face up and the dealer receives five cards with only one face up. Based on the dealer's one card and the five cards of the player, he then has to make an educated decision as to how to proceed. He can choose to fold and only loses his initial ante bet or he can raise his bet or he can place the same bet again. The player is allowed to discard two of his cards during this round or he can keep his full hand if it is good. The dealer then reveals his cards and the higher hand wins. It must be noted that the dealer must have a pair of 8's or higher in order to qualify, if he does not qualify the player wins back his bet. If there is a tie the hand with the highest overall cards wins.
Speed and Convenience of Playing Caribbean Draw Poker Online
The speed with which Caribbean Draw Poker is played is only part of the attractiveness of the game; there is also of course the chance to win the progressive jackpot at any stage of the game. The progressive jackpot is made up of contributions from the side bonus bet and is paid out at different levels depending on the hand of the player. Caribbean Draw Poker is a great addition to the Microgaming list of games and provides an enjoyable alternative for many Poker and slots players.