New Free Slots Tournaments for Casino Gamblers
Anyone who has enjoyed online casino gaming knows that the same old slots can get boring after playing them for countless hours. Even those who play in tournaments know that fresh casino action can be hard to come by. However, there is good news for those players who like to take advantage of freeroll tournaments. Before we discuss where you can play and what games are available, let's take a moment to examine exactly what a freeroll tournament is.
Learn the Basics of the Freeroll
As implied by the name, a freeroll slots tournament is exactly what it sounds like: Players join a tournament with large numbers of others gamblers to play slot machine games for free; you'll actually be able to win real cash prizes while doing so. You won't want to miss this thrilling casino gaming opportunity.
A true freeroll tournament is conducted in a "no pressure" fashion; unlike some situations, the tournaments described below are actually free. No one will be pressuring you to make wagers that you can't afford or insisting that you play other casino games that you're not interested in. Simply play the slots tournament that's available and do your best to score part of the prize pool.
Liberty Slots Casino Offers Freeroll Tournaments for US Players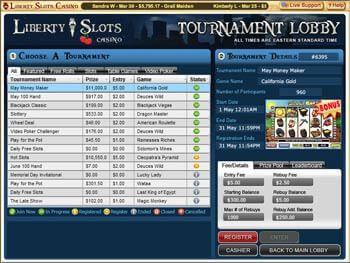 If you're one of those gamblers looking for a real freeroll tournament, Liberty Slots Casino is the place to be. While this casino does offer players the chance to buy into other tournaments, every single day of the week offers an opportunity to play in a slots tournament for free.
Called the Daily Free Slots Tournament, Liberty Slots Casino starts out the week right with La Cucaracha Slots on Mondays. Tuesdays feature Sumo Slots , while Wednesdays and Thursdays take you deep into the jungle with Jungle King Slots and Jurassic Park Slots. Fridays are all about the treasure hunt in X Marks the Spot Slots , which is fun because the bonus game allows players to seek out buried treasure. Those who have more time for casino gaming on the weekends will enjoy both Saturday and Sunday, which offer the Salsa and Tiki Lounge Slots games, respectively.
As you can see, the week is full of incredible slots entertainment that could result in real cash prizes if you finish high enough. The prize pool for each freeroll slots tournament is $300, which is split between the top 50 players. Places 4-45 pay $5, while 3rd place offers $10. 2nd place pays $25, and the top spot has a prize of $50. Remember that all it costs to win these excellent cash prizes is the time it takes to spin the reels in the tournament.
Get Started Today
Join the swelling ranks of online casino gamblers playing freeroll tournaments for real cash at Liberty Slots Casino. You won't want to miss this exciting, free gaming opportunity. Simply register with the casino for your chance to play in freeroll slot tournaments for USA players.