Lucky Lightnin Slots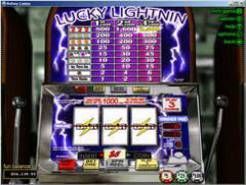 Play Now
When you get your first look at the Lucky Lightnin Slots main screen you'll be happy to see that this is an online-slots game that looks like a slot machine. Add the crisp graphics and you have the setting for some real gaming enjoyment. This is what a lot of the traditional slots players will enjoy, because they are used to the appearance and sound of the machine in "live" casinos. Lucky Lightnin is a true classic – three-reel game with one payline in addition to the appearance and format of a machine in a live casino. Software behind this game is from Real Time Gaming. It simulates the live action by requiring players to "place" money into the machine to begin play. Try to play Lucky Lightnin Slots and you'll see what other players find pleasing about this traditional system. There are chrome handles on both sides of the "machine" and the handles have those classic round black knobs.
Play Three in Lucky Lightnin Slots
Of course, one of the realistic buttons gives the player the option of betting three coins for added value. To win the jackpot the player must hit three red 7s on the single payline. Coin denominations are: .05, .25, .50, $1 and $5. See the clear pay schedule at the top of the machine for the nine different payouts, including a small payout for three blanks. First coin payouts run from 1 for three blanks to 800 for three red 7s. Second coin payouts are double that – 2 through 1600. Third coin payouts begin at 3 and end with Progressive for three red 7s. There is no gamble option or added game with Lucky Lightnin. Clicking on the $5 chip at the bottom right puts 100 credits on the counter. Choosing to play three credits starts the reels in motion. If you hit one cherry symbol on a reel you win a small amount, according to the payout schedule. For example, if one cherry symbol shows up on the third reel when you play three coins, you see that Winner Paid = 6.
Get Lucky With Lightnin
Clicking on the $25 chip puts 500 credits on the board. As mentioned earlier, if you play three coins the reels start immediately. Clicking on the "Play One" button requires the player to choose "Spin Reel." Choosing the "Cash Out" button resets the money balance and the credits counter. This is about as basic as it gets online but the "old school" players will enjoy Lucky Lightnin Slots as a diversion.